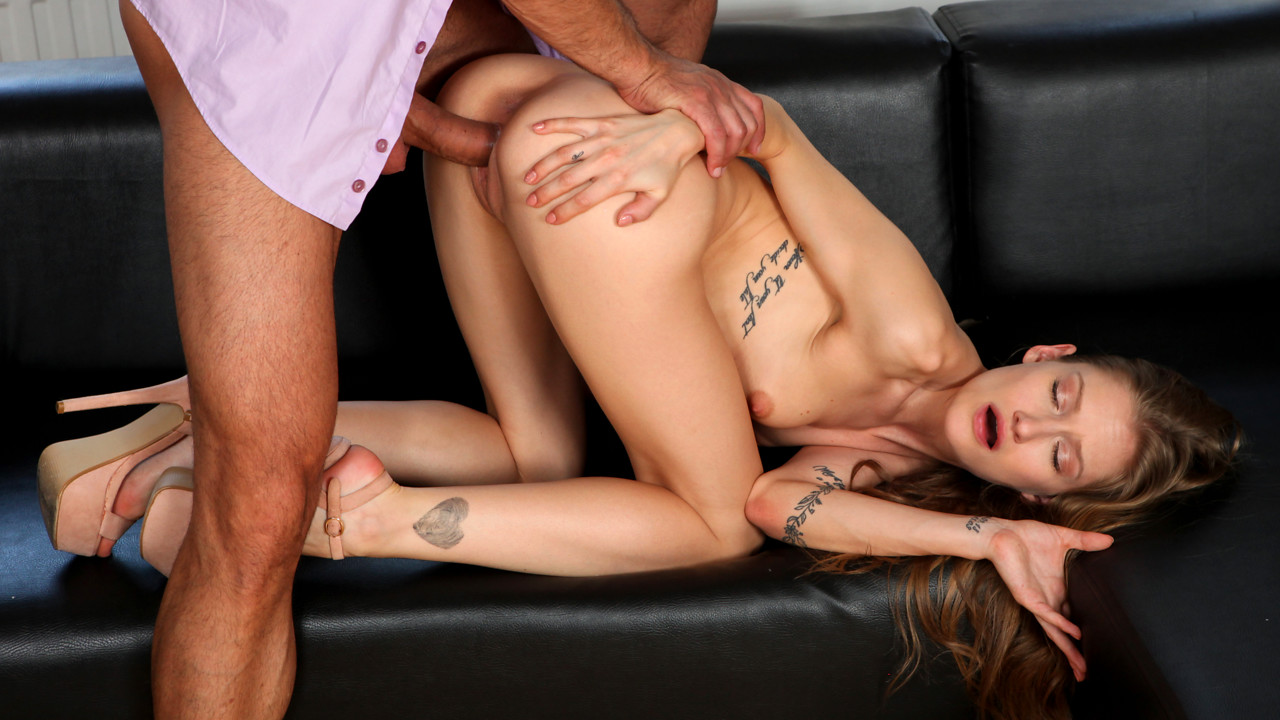 featuring


Renato and
Tiffany Tatum.
Added On:
Sep 9, 2019
Description:
Tiffany Tatum joins her tailor Renato for an appointment to have some clothes fitted, but she can't help but notice how hot he is. Renato turns his back so Tiffany can change into the clothes that he has altered for her, but he can't help but look over his shoulder to sneak peeks at his stunning client. Tiffany does her own share of peeking, too, so they are even although they don't know it.
When Tiffany walks out, Renato gets on his knees to adjust the hem of the skirt. That just won't do; Tiffany drops the skirt to the ground in a blatant message that Renato is happy to accept. Pulling Tiffany's lingerie panties down, Renato reveals her firm bottom and well-trimmed muff so he can explore them with his big hands.
Leading Tiffany to a setee, Renato watches in pleasure as she takes a seat and relieves herself of her shirt. Then she pops his stiffie out of his pants, quickly replacing her hands with her mouth. Tiffany is magical with her mouth, which Renato quickly learns as she licks and sucks his fuck stick with the utmost of pleasure. In return, he is happy to roll her onto her back so he can lap away at the sweet juices of her creamy twat.
As Tiffany holds her knees back to open herself wide, Renato positions his hardon at her entrance and then pushes in. He gives her just the tip at first, but as Tiffany rubs her clit and encourages him with her moans of excitement he drives deeper. Wanting an even deeper coupling, Tiffany gets onto her hands and knees so Renato can fuck her from behind as she rubs her own clit to double down on her orgasmic delight.
The couple is far from done as Tiffany gets to her feet so Renato can take her place on the sofa. She climbs onto his erection and slides down slowly as Renato captures her gasps of delight in a deep kiss. Turning around after a few minutes, she presses her titties against Renato's face as she continues to ride him in a fast and furious rhythm.
On her side with Renato spooned behind her, Tiffany throws her head back in delight as he enters her from behind. The position allows Renato to eventually get into a push-up position as he keeps pistoning in and out of her greedy warmth. Even as Tiffany enjoys one last climax, Renato loses control and shoves himself all the way into Tiffany's twat to fill her with a creampie. Tiffany welcomes the liquid love as she demonstrates her contentment with one last kiss.